Hi Everypup and Girl Girl
It's Doodle and I just got home from Dr. Bill's office. I forgot I was supposed to go today until I couldn't eat after midnight last night. I was really worried and by the time we got there this morning I was pretty scared. Mom said I was "shaking like a leaf", whatever that means. She forgot her camera again so I don't have any shots of us there. Something about having to get up early and out the door just screws her all up.
He gave me something that made me veeeery sleepy and that's the last thing I remember. When I woke up I was missing something...
How am I going to eat without that big back tooth?!!? I was pretty upset about this, but then I noticed my mouth felt minty fresh and clean! I wish you could smell my breath - here, get REALLY CLOSE!!!
Refreshing, huh? So anyway, while I was under the knife they cut the skin tag off on my leg. I don't feel that at all now so who cares. I dunno if I told you but I've been kind of slow getting up and being able to jump on the bed. Soooo when I was asleep they took pictures of all my joints and sure enough, I'm gettin' old. My front is ok but my rear has a lot of athritis so I'm gonna start my
Adequan
injections next week. I'll have to go two times a week for the next four weeks then one time a month forever after that. Dakota used to do it and Thrawn still does, it really helped em both.
So Dr. Bill showed Mom those x-rays then said something like that was the better news. I wasn't in the room but I'm pretty sure Mom turned pasty white (more than usual). He put up another x-ray that showed some of my other parts like my Bladder and here's where things get fuzzy.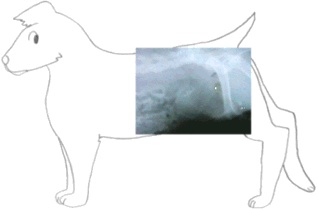 I'm no doctor but apparently I ate some rocks and don't remember because now I have Bladder Stones. Maybe that's how I broke my tooth he had to take out?!?! A-HA! It's all clear now!!! The bad news is now I gotta go back and have a big time surgery where they're gonna cut a hole in me and dig out all my rocks. Uuugh, I want to faint just thinking about it!! I might even have to spend the night there but I'm gonna tell Mom no way, I can't. I've never spent the night alone and I'm not starting now.
So that's pretty much it for my day. I took my bear with me this morning and held it during the day when I was waiting. I don't know if I showed it to you yet, I got a bunch of cool new babies from that IKEA place the other day. He rode home in Mom's new Prada bag. I don't know why she calls the vet's nice blue shopping bags that. That long thing is my monitor report when I was asleep, Mom said it's going in my scrapbook that she'll never finish.
I got lots of meds too, they make me feel kinda funny. Oops, I leaked blood on my other IKEA baby. I better have my maid wash him.
So that's it, my whole day and now I'll have another day soon to tell you about when I have my surgery. Hopefully she'll remember the camera. Thrawn's nagging me for the computer so talk to ya later.
OK, it's Thrawn finally. You'd think he was some little old lady the way he goes on and on. Boohoo, he had to spend a day at Dr. Bill's. Big baby. I do it all the time. Let me tell you about MY weekend if you want some drama. I woke Mom up about 4 am on Saturday morning...when she came into the kitchen she totally freaked cause there was blood everywhere. And I mean EVERYWHERE! For some reason one side of my nose started bleeding....then bled some more...then wouldn't stop. See that little red area? Yea. It was gross. She had to push on it and hold ice on it like forever or about two hours which totally sucked because I don't like cold face. Oh, don't mind that food all over my snout, I just ate.

So that totally made her grumpy for Saturday when they moved all of Nana's stuff. Talk about a grouch when she doesn't get sleep. So when she got home from moving Nana we hung out for a little while then right after midnight I had a seizure. I don't know why, it just happened. She was looking pretty haggard by then but started me on the valium and her new plan of vanilla yogurt & Rescue Remedy mixed together. So I got 2 pills right then and for the next 4 hours I got a pill each hour. Every thirty minutes for about the next 10 hours I got a couple spoonfuls of yogurt & RR. I didn't have cluster seizures!! This is like only the second time in my life I had a seizure that didn't turn into 2 days of them so maybe it worked. Or maybe it was a fluke and she has false hope, such is life you know.
So yesterday she looked like the Wicked Witch from the West but I figured one more thing wouldn't push her over the edge. Remember I told ya I drank ALL the time? Well, I started this thing that is driving her nuts and that's hanging my head in the bowl even when I'm not drinking so my jaw is in the water. It feels good, leave me alone already. Wellllll. I didn't know but when your skin gets really really wet all the time weird things start happening so when she came into the kitchen this morning my jaw was in what looked like a bowl of blood. I can't help it, she was kind of funny the way she freaked out. Now I only get stupid shallow bowls of water that I can't rest in really and I have to get stuff smeared on my jaw to help block some of the water. Humans suck, they ruin everything. Here's my waterlogged mouth in case you want to see what it's not supposed to look like. I really don't see what the problem is.
Here's the stupid double dishes I have to try to drink from. I hope I don't dehydrate.
Just to show how unhappy I am about it I busted down the gate while she was at work today and when she came home I was asleep on the bear bed. Of course Bear ran back in the kitchen when he heard the key so he looked innocent. Whatever. This is what he did all day - cleaned my ears cuz he's my slave dog.
Here's the gate I whooped ass on today.
I think this is the longest post ever in our blog so you're probably asleep by now. Gotta go get some rest, all this drama makes me tired. - Thrawn